High Quality Briquette Black Sic/Black Silicon Carbide
High Quality Briquette Black Sic/Black Silicon Carbide
| | |
| --- | --- |
| Packaging: | In 1MT jumbo bag or as request |
| Brand: | Star |
| Place of Origin: | Henan, China (Mainland) |
Basic Info
Model No.: According to requirements
Product Description
The Product Description Of the Silicon Carbide
The introduction of the silicon carbide
Low SIC content silicon carbide's main application is for refractory industry, deoxidizer for steel industry, stemming, Castable etc.
We can produce and process according to the specification and size requirement of the customers.
Black and green  Silicon Carbide /SiC/Anyang factory supply directly.
The catalogue of the silicon carbide
Size Distribution for Bonded Abrasives Micro powder(Resistivity Method)

 

 

 

 

Unit: um

Size

Max grain size (dso)

Accumulation Height 3%(ds3)

Accumulation Height(dso)

Accumulation Height 94%(ds4)

#240

127

103

57±3.0

40

#280

112

87

48.0±3.0

33

#320

98

74

40.0±2.5

27

#360

86

66

35.0±2.0

23

#400

75

58

30.0±2.0

20

#500

63

50

25.0±2.0

16

#600

53

41

20.0±1.5

13

#700

45

37

17.0±1.3

11

#800

38

31

14.0±1.0

9

#1000

32

27

11.5±1.0

7

#1200

27

23

9.50±0.8

5.5

#1500

23

20

8.0±0.6

4.5

#2000

19

17

6.7±0.6

4

#2500

16

14

5.5±0.5

3

#3000

13

11

4.0±0.5

2

#4000

11

8

3.0±0.4

1.3

#6000

8

5

2.0±0.4

0.8

#8000

5

3.5

1.2±0.3

0.6
The pictures of the silicon carbide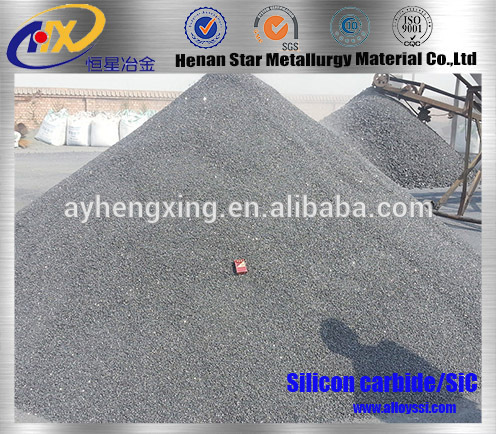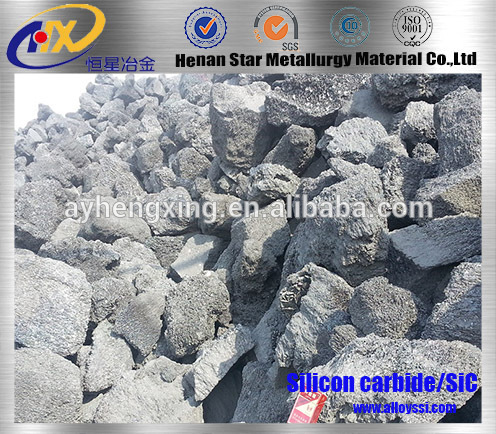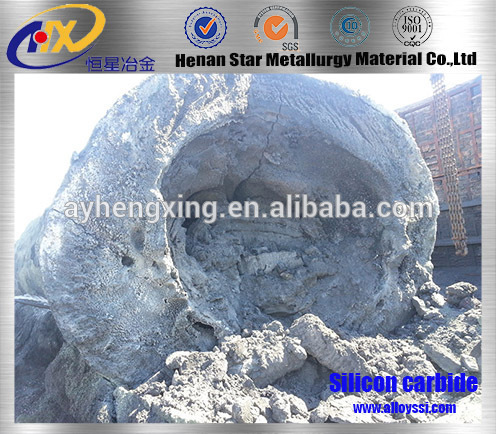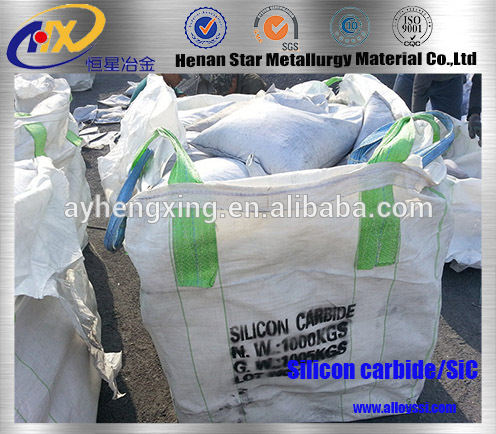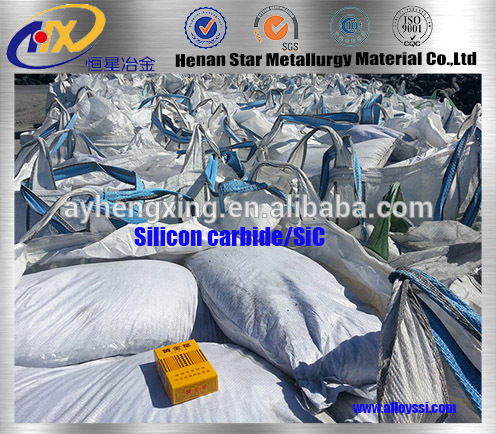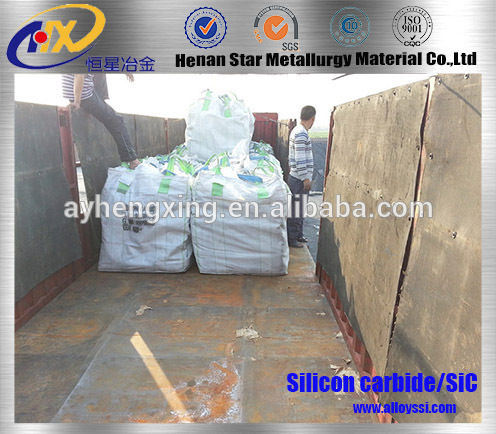 The Packaging&Shipping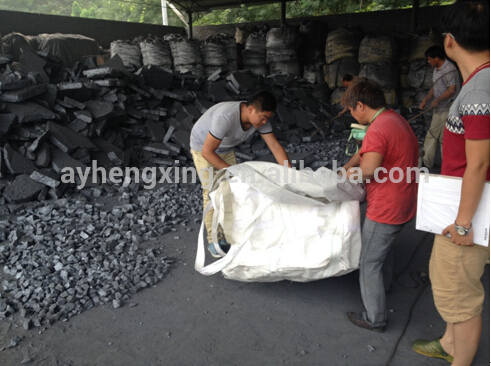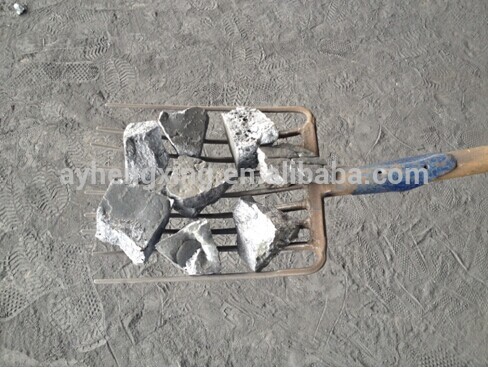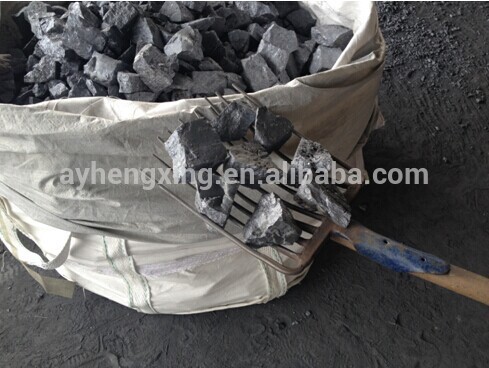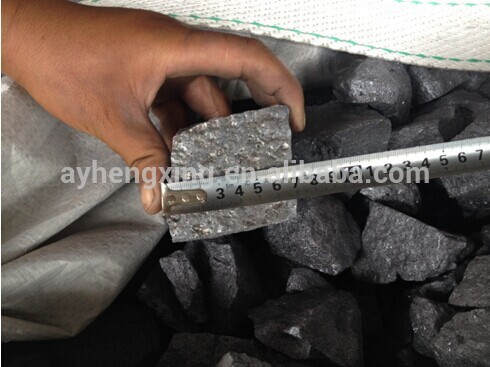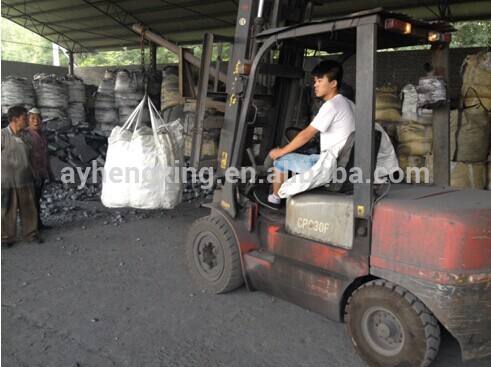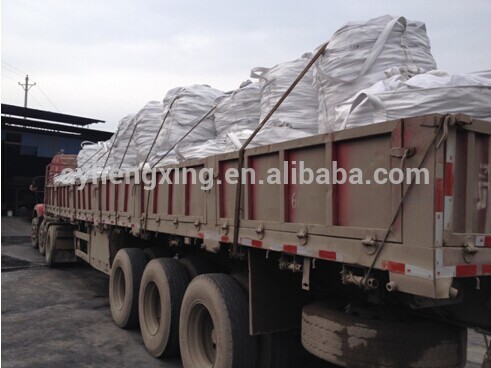 Our Services
1.Professional knowledge,professional solution for you;
2.Flexible form of payment;
3.Professional knowledge,professional solutions for you;
4.High quality production and competitive prices;
5.Reassuring freight--good ton bags and supervising loading.
Company Information
1.Henan Star Metallurgy Materials Co., Ltd., founded in 2003, is located in Anyang, Henan
Province. Henan Star Metallurgy Material Limited Company specializing in ferro silicon,calcium
silicon,cold-rolled rebar equipment with high ductility production and sales.
2.It is a manufacturing company directly subjected to the Anyang Star Metallurgy Material 
Institute. The factory covering an area of 80 square kilometers, it has a complete set ofmodern production equipment. 
3.Relying on the academic advantages of Star Metallurgy Material Institute and advanced stable production progress, this company can provide 1,000,000 tons of high qualified alloy series products annually, such as ferrosilicon, silicon metal, calcium silicon, silicon carbide, metal alloy 
powder, etc.
4.The company also engages in the export of refractory materials, steel products and machinery equipment, machinery equipments include equipment for ferroalloy plant using and cold-rolled rebar equipment with high extensibility.
Our products are sold to dozens of countries and regions.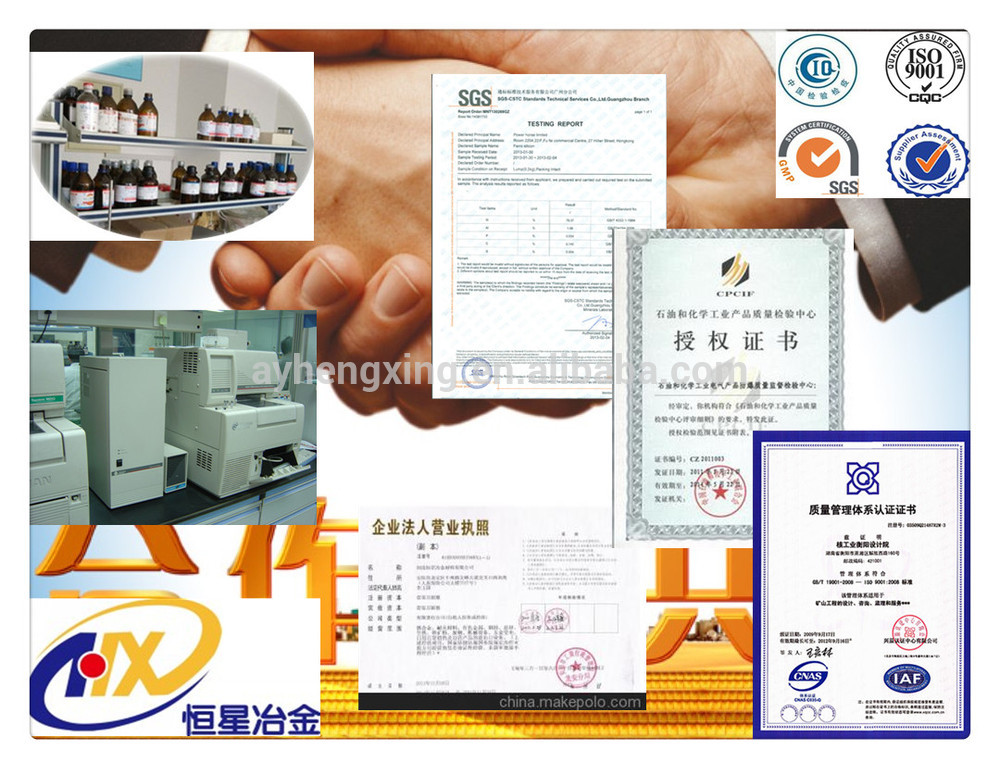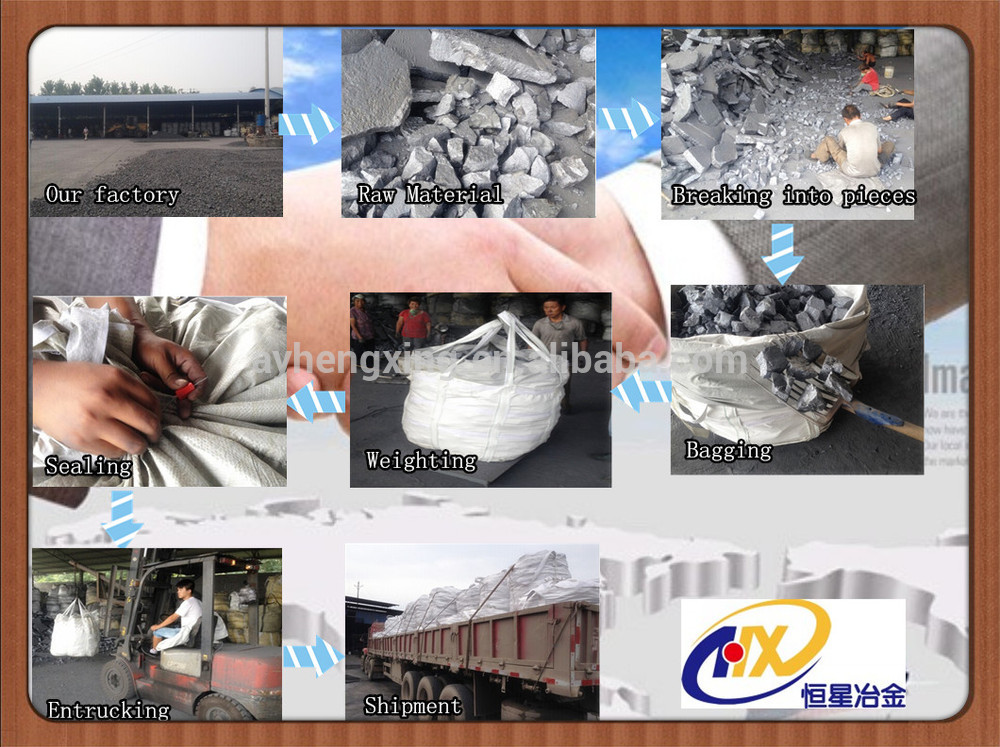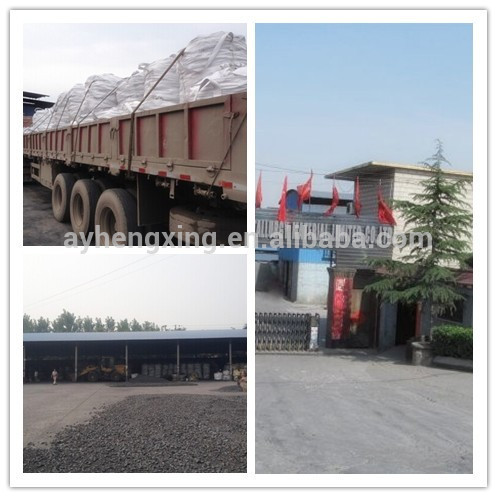 FAQ
1.Size:
10-50mm,50-100mm,90%min
Other special size is available
2.Packaging:
Plastic bags,1000kg per bag
3.Shipment details:
Partial shipment allowed
4.Usage:
It is used as principal raw material in the manufacture of the Mn-Steel and Welding Electrode because of its anti-oxidation property.
Welcome to China
Welcome to Anyang,Henan province
Welcome to our factory and company for a visit
Attn:Mr.Richard Wu
Whatsapp:+86-17637223020
Skype:xscferroalloy
Address: 10TH FLOOR, GUO MAO Building, Wenfeng Avenue, Anyang, Henan, China
Tel: 0086 17637223020
Web:   
    Ayhengxing.en.alibaba.com


ningxia hexing carbon based materials co.ltd
Ningxia Hexing Carbon Base Material Co., Ltd. was established in May 2012 with a registered capital of 40 million yuan. It is mainly engaged in the production and sales of fire-resistant and wear-resistant carbon-based materials such as Silicon Carbide. In May 2012, the company invested 220 million yuan in Qingtongxia New Materials Base to build a 10,000-ton-per-year silicon carbide carbon-based product construction project, and responded to government policies to achieve the year of construction and production of the year. After the efforts of Hexing People, Hexing Company is now a key enterprise in Wuzhong City and Qingtongxia City. The company's production scale, production safety, energy saving, environmental protection and other work, economic benefits in the region and the country in the same industry in the forefront. In 2017, it was established as a [benchmarking company" for production safety, energy saving, and environmental protection in the region by the autonomous region`s Economic and Information Committee and industry associations. In 2014, the company passed the ISO9001:2008 quality system certification, and achieved EU REACH certification, with its own import and export rights. Laboratory equipment is complete, equipped with 7 particle size testing equipment, 3 muffle furnaces, 3 electronic analytical balances, 2 ovens and other supporting testing equipment. 9 laboratory personnel, all of whom are college graduates, have passed the CIQ Ningxia Testing Center after passing the training. The chemical analysis of products is strictly carried out according to the international standard "GB/T 3045-2003", and strict quality control is applied to raw materials and products. Our company is mainly equipped with two silicon carbide production capacities of 32,500 KVA and 35,000 KVA, and its supporting first 110 KV GIS power supply system. The system has the characteristics of safety, reliability, low loss, high power conversion rate, and small footprint. The company is currently equipped with a complete product deep processing equipment, according to the requirements of customers processing various sections of sand, granular sand, fine powder, micro-powder products. In 2016, after one year's production-side experiment and comparative analysis, it was difficult to overcome difficulties and solved the difficult problems that plagued the silicon carbide industry. Under the leadership of the Silicon Carbide Association, Silicon Carbide companies from the region and neighboring provinces visited, inspected, and studied Our company's experience in solving the "bullet" phenomenon has been promoted and applied, further enhancing the company's influence in the industry. In 2016, the company also introduced advanced technology and a company in Henan Province to jointly invest in a new silicon carbide fine processing line that has been put into production. The goal of silicon carbide to more "fine" processing has taken a new step. This model is still the first among all silicon carbide production companies in the country, with an annual output value of 150 million yuan. The company's products have been exported to the United States, Europe, Japan, South Korea, South Africa, Southeast Asia, China Taiwan and other countries and regions, the company is in accordance with the "forge ahead in unity, the pursuit of excellence" business management philosophy with customers to carry out all-round cooperation. The company's products currently have a higher reputation in the domestic and international markets. For the domestic market, the company's products are mainly used in the engineering ceramics materials industry, and have established good relations of cooperation with well-known domestic enterprises such as Sinosteel Group, Hansin New Materials, Hanjiang Group, and Wuhan Iron and Steel Refractories. For the international market, our choice of customers has shifted from the export of low-end metallurgical materials to the foundry materials, refractory materials industry, and from the traditional US market to the European market. The added value of products has been greatly improved. We have become the main supplier of ThyssenKrupp in Germany, Norma in Germany, Fireproof in Sweden, and Zerma in Belgium. Hexing continuously improved on the equipment. In the management, it really placed emphasis on safety, energy saving, and environmental protection, and strived to build Hexing into an excellent benchmarking company that kept pace with the times.
Company Name: ningxia hexing carbon based materials co.ltd
Product/Service: Silicon carbide , Black Silicon Carbide , Various Apecifications Silicon Carbide , Powder Silicon Carbide , First Grade Silicon Carbide , Second grade Silicon Carbide
Contact Person: Ms. Maying
Tel: 86---0953-3656012